Reviews
The Divine Comedy
Casanova
"Casanova could be the year's first certifiable classic."
"After smashing polls and wowing critics with Liberation and Promenade, Divine Comedy once again deliver the goods in what is undeniably their most ambitious, accessible album to date.

With guitars, drums and bass, augmented by a forty piece orchestra, Divine Comedy - like their namesake - take us on a journey to paradise. Prepare to be wooed."
"Pure Class."
"It's the perfectionist attention to detail that counts."
"The utterly wonderful album Casanova... Once listened to, forever addicted."
**** "With strong melodies and a lyrical treatise on love that smoulders with knowingly arch comedy, this is music to appeal across all pop tastes."
**** "a welcome antidote to the bristling bravado of Male Rock in the '90s."
**** "Delicious."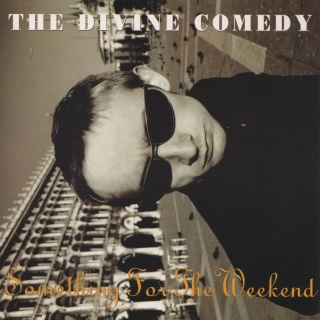 The Divine Comedy
Something for the Weekend
SINGLE OF THE WEEK

"The ever whimsical Neil Hannon is in fine fettle on this rich and distinctly Eighties-flavoured outing which Radio One is already behind. ***** "
"At once soaring, cheeky, leering, and truly weird."
Factoid: Something for the Weekend' reached no.14 in the U.K. singles chart.
The Divine Comedy
The Frog Princess
SINGLE OF THE MONTH

"Lush, hilarious pop mastery with whistling from the exquisite Neil Hannon. Single Of The Month, every month, forever."
SINGLE OF THE WEEK

"Trumpets blast in the distance and the band strikes up a lush piano refrain. The court whistlers wet their lips and a wiry-haired drummer starts bashing at an iron kettle as if anticipating techno several hundred years in advance. Then the king appears - a gangly, gawky irishman with a soft spot for the laydeez...

Neil Hannon has been hiding the best single of the year up his sleeve for the past few months and now he's finally released it into the clutches of Chris Evans."
"It is big in that Spector-at-Abbey Road way: a trombone-blaringly obvious hit single."
"The best-timed whistle in recorded history."
Factoid: The Frog Princess reached no.15 in the U.K. singles chart.
The Divine Comedy
Becoming more like Alfie
**** "Another deserved British hit for Hannon."
"When one thinks of the Divine Comedy's commercial breakthrough album Casanova, it's hard to keep Becoming More Like Alfie from instantly popping to the forefront of one's mind. The song nearly defines Neil Hannon's romantic gent persona of the time. Fitted with nostalgic brass adornment and lushly engineered by Darren Allison, it drips suave attitude. From its opening film samples to its bombastic, breezy catchiness, the song is wholly endearing and quite irresistible."
Factoid: Becoming more like Alfie reached no.27 in the U.K. singles chart.
Back