Reviews
Efterklang
Parades
"Parades is simply awesome....they recorded this with the help of no less than three choirs, a string quartet, a brass quintet, a church organ and the assistance of Darren Allison at the mixing desk..And along with Efterklang's own Mads Brauer, the pair wring every last drop of emotion out of the compositions."
"Parades is an exquisite sounding record. "
"***** (5) Efterklang have managed to locate the sweet spot where the organic meets the electronic, and have carefully stuffed each track full to bursting point with a gorgeous mix that at times seems to require a new musical format, just to deal with the sheer bandwidth of sonic invention on display here."
"This is an album of majestic beauty; percussion crashes like the sea, strings soar and choirs of voices swoop overhead. The songs are rich in texture, from the melancholy to the euphoric. For all their complexity, it can be one simple note that comes in and rubs against the others to tear at your heart. This is the kind of music you can't listen to passively, it surrounds and envelopes you, lifts you up and takes you away from the world.

Violin, brass, woodwind, guitar, accordion and drums all play complementary patterns that build into a vast wall of sound, before slowly dropping out one by one. That the music they have created is so emotive, beautiful and downright amazing means it simply cannot be missed. Without doubt, this one of the best albums released this year."
"10/10 I'll save you the scroll, and the stinging sensation that edges towards the centre of your eyeballs after five minutes of squinting at your screen: ten out of ten. There, I did it. Once in a blue moon? I've never seen a blue moon.

Parades is the culmination of all the potential Efterklang have ever exhibited; a sumptuous, symphonic masterpiece of crackled circuitry and classical compositional skill, drenched in harmonies that spill from instruments too varied to list yet that combine quite brilliantly to craft pieces that know no creative boundaries. This is music full of spirit, of invention; it's music that rises and rises, lifting the listener as it reaches the sort of height once the reserve of Radiohead, Sigur Rós and Arcade Fire - you know, the bands that touch you right there, without fail. Parades exhibits from the outset one objective fact of this highly subjective appraisal: that Efterklang have the material to rank alongside said potential peers. This is their Dark Side Of The Moon, their OK Computer; it's the album Björk wishes she'd conjured in her mind when realising Vespertine, full of mystery and long-term intrigue. Efterklang have produced an affecting album that warrants a place in the homes and hearts of every reader. Seriously: this is one of 2007's finest LPs, no question."
"You'll see many a great record listed in this Essential 50 countdown - hopefully, in their own special way, every entry is worthy of such categorising - but few will stir you quite as singularly as this absorbing epic from Danish collective Efterklang.

Parades is the last album this writer awarded a perfect score to, a 10/10 review absolutely, to these ears, deserved. It's an album that delicately reveals myriad layers of emotionally rich nuances, every shimmer of electronica matched by something wholly organic, something from the heart via a succession of circuit boards and computer screens. Every tiny click, each sweep, every vocal you can't quite understand but that you feel - these and more have their places, all vital in the grand design of this ambitiously widescreen long-player.

Parades is one of those truly rare records that, and this can only be a subjective perspective, is entirely without fault."
"It's the sound they've been reaching for all along, and on Parades they nail it."
"Parades is an album that your kids will learn about in The School For Music Production. We have three choirs, one strings quartet, one brass section, tapestries of sound and emotions, and everything's about to explode in a second.

This is going to be one of the best albums of the year, I guarantee....this album is just perfect, intellectual, interesting, captivating, astonishing, Thrilling, has an amazing big sound, well produced and played. Just stir and serve."
"This is big stuff. I may need to go buy a big heavy thesaurus in order to compete with this sort of bigness. It's astonishing music. How long did it take them to make? Can a record like this be made cheaply these days? Roger Waters would have spent 100 million dollars to get something that sounded this good. This album is a universe to be visited and mapped. It isn't just a pop record. They have crafted something so visual and brilliant that you can help but be floated with sensory experiences unlike anything you are likely to have experienced from pop music.

Totally classic."
"Album of the week ..and yes this does sound like great colourful parades - great big happy engaging breathtaking panoramic parades, magnificent...wonderful and unique."
"With Parades, Efterklang have transcended their original sound and considerably developed the scope of their music.. As the band's records become more ambitious with each release, Efterklang seem to carry them with increasing confidence and maturity. Parades is, quite simply, a masterpiece. 5/5 "
"It's an album awash with otherworldly electro beats, whispered lyrics, horn sections, string sections and intersections; haunting choirs, Gregorian-style chanting and dreamy soundscapes that sound like what Arcade Fire would sound like if they decamped to a commune in the Arctic for a year. Parades has a seamless quality that means it could easily pass for a film score. Probably one of the loveliest albums you'll hear this year."
"Further reinforcing the idea that Scandinavia is currently a musical force to be reckoned with, Danish band Efterklang return with their second album of multi-instrumental other-worldliness. The result is a masterfully-crafted record awash with ethereal intimacy, delicately-layered chamber music and choral harmonies that simultaneously make you want to smile and weep. Parades has a distinct tone throughout, created by numerous string, brass and wind sections, all of which blend together perfectly to create a coherent sound, and one which never becomes inaccessible or self-indulgent.

At its most minimal, the album relies on little more than several voices and the melody of a lone instrument, but such is the power of every sound recorded that these sections are just as genuinely moving, if not more so, than the orchestral swells. What Efterklang have created is one of those rare albums that you feel you've actually gained something from after listening to. Parades is an intelligent, heartwarming, sublime record which is more than worthy to follow the seminal debut, Tripper. There are some moments of true beauty here. Make sure you experience them."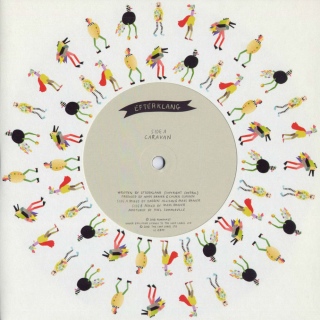 Efterklang
Caravan
"DAZZLING Danish outfit Efterklang are back with a bang with the limited 7" release Caravan, taken from October's critically-acclaimed album Parades. It features an incredible symphony of sound; a whole host of instruments merging to create a crescendo of noise that shakes you to the core. Caravan is quintessentially Scandinavian, yet perhaps even more experimental than the great Björk at her best."
" 4/5 Like their Icelandic neighbours Sigur Rós, this Danish five-piece put a premium on experimental sounds, but without forgetting to add appetising oddments. A major attraction on this track - from last year's acclaimed 'Parades' album - is the sumptuous orchestral accompaniment to the voices, trumpet and electronics. Imagine Björk (not having endless tantrums) meeting Radiohead (without their sad faces on).The caravan is here, so get on board for a pleasant surprise."
Back